In the sections below, I am going to look at the features that I think customers will find the most interesting and beneficial. 
Story Reports
Story reports were made available to all customers from the summer of 2020. This update was a huge step forward in SuccessFactors' reporting capabilities. While story reports initially had quite a few limitations, they are being addressed by SAP one by one, and the 2H 2021 release continues that steady progress.  
Release on 2H 2021 effective from 19.11.2021
• Inline Translation for Story Reports
With this latest update, SAP is now including an option to provide inline translation of widget titles and page names in story reports. As someone working in a region where accommodating multiple languages is commonplace, I can see this being very useful in streamlining the localisation process for reporting.  
I am also pleased to see that the user interface for this feature looks relatively straightforward to use. That should help significantly with the uptake of this feature. 
There is one additional point worth highlighting about this feature. When the translation feature is enabled for a story, that locks the source language for the story to be the language associated with your current system locale. If you are a multi-national organisation that has multiple standard business languages, this may be something you need to be mindful of if you have analytics teams who have different business languages but share common reports – otherwise, an accidental source language setting may occur.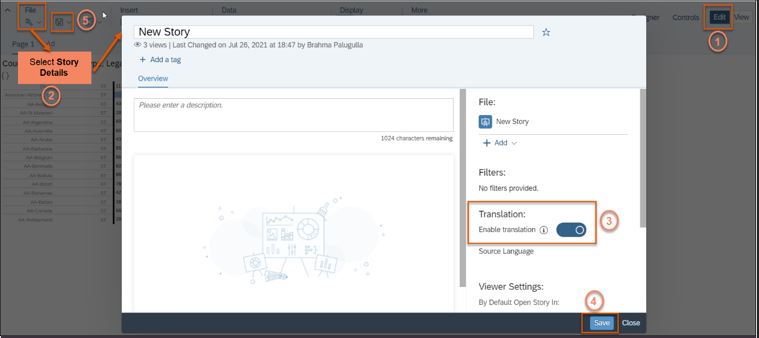 Figure 1  Inline Translation for Story Reports 

Figure 2 Inline Translation for Story Reports 
• Audit Trail Now Reportable in Stories in People Analytics 
The next new feature to draw your attention to enables the creation of story reports to use date from the audit trail records of completed form steps.  The stories can access details about step owners and the step action, including details such as IDs and descriptions for the step. 
Presenting this data in a story report format should make it much easier for customers to be able to track performance forms in a single consolidated report rather than having to open individual forms are use the audit link to get the required details. 
• Report on Custom Sections in People Profile 
The SuccessFactors Metadata Framework (MDF) is arguably one of the most powerful areas of configuration within SuccessFactors and being able to configure custom MDF objects for People Profile, allows the tailoring of the system to display important data on an employee's record. Therefore, it is rewarding to see SAP make an addition in this release to allow Analytics to easily take advantage of these objects. 
Custom MDF objects, configured as bespoke sections in a customer's People Profile (a custom MDF object with an external code of "User")) can now be accessed as tables relating to "Basic User Information" in Story reports' "User" schema.  
With this in place, that gives unprecedented ease of access to the custom data and can yield new ways to bring that data to bear on the analysis across data sets that Story reporting is so good at. 
• Story reports introduced in 1H 2022
You may have noticed that I began a subsection earlier as being effective from. The reason for this as you may have inferred from the heading above is that SAP are splitting some of the functionality out in this release to take effect next year. 
• Increase in the Number of Columns Supported for Learning Queries in Story Reports
SuccessFactors Learning is a module that is highly data driven and that generates lots of data through employee use. As a result, many of the reports around learning can be data dense in terms of the number of types of data customer need to show side-by-side. To this point, learning data for Story reports has been limited to 30 items of data (columns). SAP are enhancing Story reports to be able to deal with four times that many, giving customers an option to select up to 120 items of data when creating a query on learning data. 
Given the potential breadth of data associated with learning objects such as learning items, I can see this making a big impact for those organisations really wanting to take the power of Story reports and apply it to their learning and development data. I'm sure there are lots of useful insights to be found by being able to tap into that many more items of data for a query.  
SAP currently expect this feature to be available in production systems by the end of the first full week in January 2022. 
• Query Validation for Story Reports 
The second upcoming pre-announcement for Story reports that I wanted to highlight was around query validation. This one everyone working on Story report creation will find invaluable, and in hindsight, it seems surprising that this wasn't included from the start. With this update, also due to release into production in the first week in January, Analytics will automatically force a validation check whenever you select to preview or finish, in the "Query Designer". The validation will identify errors such as misnamed, or otherwise incorrect column references, filter issues, and calculation errors – no one likes a division by zero after all. 
Workforce Analytics 
Switching from Story reporting to Workforce Analytics (WFA), there are a couple of areas I would like to highlight.  One is a new report template, and the other is to highlight a small, but important default behaviour change. 
New Human Capital Report Template for Workforce Analytics
With this new update, SAP has added a new WFA report template. This template has been introduced to deliver compliance to the requirements for ISO30414:2018 (Human Resource Management – Capital Reporting). This will obviously be of great interest to any organisations pursuing assessment against this standard. But, even if you are not, having access to standards compliant reporting is going to provide a good cross-industry standardised report option. 
Note, there is a pre-requisite of five metric packs that you must have available to you in WFA in order to utilise this report – "Core Workforce and Mobility", "Learning and Development", "Employee Relations", "Health and Safety", and finally, "Survey". 
Forecast Option is now by Default Set to Off
The second WFA highlight is a small change to the Investigate Tool's default value for the Forecast option – it is now defaulted to off. The customer feedback on this issue was that forecasting usually was not relevant, and it was tedious to almost always have to click through the process to turn it off each time. The result is, in this release there's a small quality of life improvement. 
Conclusion
As you can see, there are many improvements, both for users and administrators. They should make working with the system even easier and more enjoyable. Analytics continues to be improved and enhanced. It is notable that some of the new functionality is only being 'introduced' by SAP in this release and will not be ready to use until 1H 2022. SAP obviously have some things that were very close to release readiness for this quarter but perhaps need some behind the scenes work or tweaks to make them truly ready to use. 
The thing that I think is going to be a bigger benefit than many might expect is the increase in the number of columns supported for learning queries in story reports. I can see many cases where this will be put to good use to improve both consultant and customer work with the creation of more capable manual reports.  
I hope that this post has given you some better insight into the new and upcoming SuccessFactors Analytics features that SAP is releasing and that as a result, you are able to get deeper insights from your systems and data.