1) Rise and shine every day
Routine is key! Hans-Petter's morning ritual helps him mentally prepare for the workday ahead. Before COVID-19 he started his day with a shower, fresh shirt and nutritional breakfast before leaving for work. Now, he still implements this routine before home office officially starts.
When questioning Hans-Petter about the benefits of a standardised and modern IT infrastructure he explained that:
Zalaris use Microsoft Office365 through all our operations and were using Teams/Skype as a communication tool prior to working from home. Immediately, we started to explore Teams collaboration features and found a lot of available functionality that has helped us through the first two weeks with any issues and have introduced new modern ways of working that will be continued when returning to normal.

Hans-Petter Mellerud
And so Hans-Petter's second lesson is:
2) Find collaborating infrastructure that works – we used MS Teams (as part of Office365)
Set up a MS Team and invite all of your team members. Use 30 mins to learn about the various features watching the introduction videos.
Structure your Teams with "Channels" that group the various areas where your team collaborates. In addition to the General channel that we use for general communication – I established a "COVID-19 – Status" Channel where all our Business Continuity related activities are grouped.
I structured this Channel with various tabs as follows:
"ToDo" – using the Planner app – to distribute and follow up work between my team
"Status" – using the OneNote app where I established a separate Section per business area and responsibility, with a page for each day. All my team members update their C19 related status daily in this tab based on a simple template including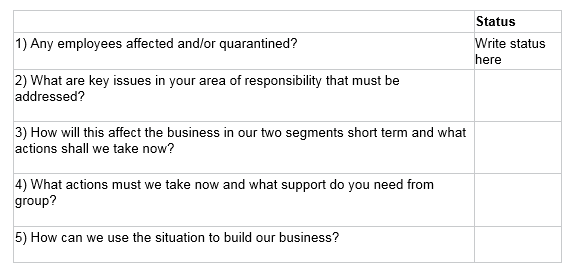 Then I added another tab also using OneNote Called "ActivityTracker" with a different section for every team member. I  dated a page per day where everyone created a daily brief overview in bullet form on what they have worked on/achieved that day.  It is not about control; but a convenient way to keep track of the work that's being done and share the work situation for team so that everyone is in alignment.
3) Use Video
Using video has been a huge revelation as most meetings within Zalaris are now done via video as this helps to drive structure. During this time of isolation, it is ironic that we are spending more time face-to-face with team members than ever before!
Hans-Petter's tips are to:
Even out face time with team members independent of location.
Think about lightning and using blurred background to improve the experience.
Video in Teams work great.
Try to put the video as close to your own camera as possible – this keeps me facing the camera more consistently than if the video is located on other parts of the screen.
4) Schedule regular calls with your team to stay in touch 1:1s
Hans-Petter explains that he schedules daily 1:1 slots of calls with each of his team members for 30 mins and that this is a great to get going! However, it easily crowds his calendar up. A good alternative, he states, is to have everyone checking into Chat when they come to so that they are able to tell the other members that they are available. He further explained that, "After two weeks we will be scaling down some of the 1:1 daily calls and do more on an ad-hoc basis".
All management team members updates own status in OneNote(as above) before 1130 daily based on template. Basis for BCP meeting at 1200.
Team calls daily:
"I set up 20 mins group call for BCP at 12:00 daily where everyone participates with a short status. This allows for everyone to report a status from their own areas and bring up important issues in the meeting. This is quite useful for everyone to share their status and I write a short summary of their presentations in my own activity tracker. We are becoming better and better at keeping time".
All hands weekly:
Active employees set up a weekly social call for everyone in the office at end of play Friday. "This is great for keeping some of the informal relationships/coffee machine talks that you do not get with remote work".
5) Time is flying fast – so protect it
Naturally, working from home blurs the separation between home and work.
In times like this there is an endless supply of work. Set clear targets for work hours. Learn from elite athletes – recovery is key to performance. And to ensure you get proper family time, exercise and sleep.

Hans-Petter Mellerud
6) Use freed-up time from commuting to win back your life and get back in shape
With the daily commute no longer a part of daily routine, Hans-Petter believes we should use the freed-up commuting time to achieve something good for ourselves and our family. "Try to get at least 30 mins of recommended activity daily. Lots of training can be done inhouse without any equipment other than your will. If you can be outdoors, what about a 30 min walk or run after work and before dinner? Stay #ActiveAgainstCancer !"
7) Experience to date is already shaping thoughts on how we can use tech to improve management when we return to normal
Lastly, Han's-Petter summaries his thoughts and lessons:
Continue using Teams in the current set-up as it is an effective way to document and share info on activities.
Video meetings equals out physical distance and creates better ways of benefiting from diversity of the team.
Continue using video with customers as it allows for more frequent and personal communication. With scenery from everyone's homes.
Introduce one or more home office days a week to reduce commute load (better for the environment) and allow for savings in office space through hot desking.
There is nothing like a common enemy – a virus – to bring the best out of a team. I believe we have never had a better team spirit and "go go attitude" than now.
Even though video and Teams works great – I am missing the coffee machine talk and exchange with the larger group of people.