Consequently, the Employee Central Service Centre solution for SuccessFactors also continues to receive quarterly updates, and so one of our consultants has been examining the changes.
Employee Central Service Centre
Stephen Millard once again uncovers the aspects of the release that will be of most benefit to Employee Central Service Centre users, including some previously discussed features now coming to general release, some e-mail and workflow features, and of course the regular updates around the user interface and analytics.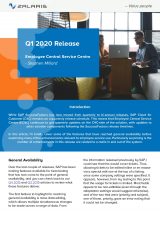 We hope that you find our SuccessFactors release articles both thought-provoking and informative, and we are always interested in hearing from readers about what they find useful or what they feel is missing. If you have any feedback, you can reach out to us on social media via LinkedIn or Twitter.
Please do continue to share these articles with your peers, colleagues, and connections. If you have not already done so, subscribe to our mailing list on this page for our news and updates like this.