But in today's digital era, this should no longer be a burden. Companies clinging to papers and shelves stand no chance in the race toward full digitization and the journey toward a workplace of employees that have paperless expectations. In this age of GDPR compliance, employee experience and increased HR control over strategic decisions, it's time to look for a better solution.
Time to move on
Many are turning toward personnel document management systems like Zalaris eFile. These systems ensure compliance. They drive employee experience with easy-to-retrieve documentation and archiving. They boost the overall trust in HR efficiency and control.
Proper, structured personnel document management and archiving processes are preconditions for transparent and cooperative employer-employee relationships. Put another way, having such systems in place will considerably save the company's most valuable resources – time and money.
Avoid unnecessary legal risks
Comfort, trust, simplicity and efficiency play an integral role when it comes to choosing the "perfect fit" for personnel document management and archiving software, but another important aspect —and from a legal perspective, an even more integral one — is compliance to local and global data protection regulations. 2018 came with an emphasis on the four-letter abbreviation GDPR (General Data Protection Regulation), which any company owner, manager or employee in the EU and abroad has likely heard of and knows of its importance. GDPR compliance is not simply to please authorities but to make our employees to feel safe and secure in trusting their personal data to their employer.
Overall, GDPR compliance regarding employee data management should ensure the following rights for the employee:
Access to the data employer holds on them
Right to be forgotten (ability to delete data that employer holds on them)
Ability to ensure data is correct and rectify if inaccurate
Right to be informed (ensuring transparency)
Ability to block processing of data and obtain/reuse personal data for own purpose (under certain circumstances)
Bypass yet another separate platform
The HR manager's ideal tool shouldn't only ease their daily work and ensure local and global compliance; the right personnel document management solution should also integrate with your current ERP system(s).
Integrating the new solution into your company's IT landscape may present a technical challenge. Think about whether bringing another tool or platform into the ecosystem for employees to use for yet another purpose will create confusion. You have to work to seamlessly incorporate the new solution into your everyday operations.
The Right Solution
Besides the obvious general requirements for a document management and archiving system, there are several key features which you should consider an essential part of the "Right Solution":
Security – Supports role-based access/control over who can see specific documents and information.
Structure – Designed to sort documents in an easy-to-use, sensible file structure
Searching – Easy to find documents based on multiple search options (document type, name, keywords, etc.)
Mobile – Ability to access your documents and use the solution on the go
Trackable – Possibility to monitor which users are accessing and managing documents
Compliance – Regulation capability for when outdated documents can be deleted
Integrations – Capability to integrate the solution with other programs you already use in internal document generation or management routines
Ease of Use – Should be multi-functional and complex but easy to use and intuitive
At the end of the day, everything depends on your company's needs and what you want your document management and archiving system to accomplish. Your decision must ensure that you can build on and expand your system to reach the end state you envision.
Making the Move
Finding the solution that meets all your needs is only the first step of the journey toward digitalization with personnel archive. Once you decide what direction to go, the often-painstaking task of moving your organization into the new solution must begin. This process calls for careful consideration amidst several key steps.
It's time to get under the hood
As always, you need to start with an analysis of the current processes and procedures in your company regarding personnel document handling. Before you move to the new solution, ask yourself: Is the current archive in paper or digital format (or both)? What kind of documents have you been storing? Where have you been storing them? Did you have specific procedures for document sorting? Which documents do I and others use frequently, and which documents and data are archived? You need to gather this data and find all the places your documentation might be hiding before you move forward.
Legacy documents
Once you have an overview of your current data and documents, you need to figure out how to deal with your old documents. Legacy document repositories are a reality for most organizations. As you move to a new document management system, you will have to make decisions about which documents and files to move and which to place in a separate archive and leave behind.
Be ready to change
The solution you choose will often have a standard set-up and process flows already in place. This might cause you to take a hard look at your current document management and storage processes so you can improve them. This might feel scary at first, but it can be the perfect opportunity to investigate how your business processes can be improved. You might find that some tasks or processes you were performing previously were simply inefficient and holding you back.
Moving in
Here the fun part of mapping and migration begins. Once you are confident the new solution is set up according to your needs, the workflows and accesses are determined, new routines are ready to begin and you're ready to move your existing archive, it's time to move in! This process can vary based on multiple factors — format, file type, document amount and others. Each document migration to the new system should be treated with careful consideration and close cooperation between the vendor and client. Bear in mind that this can become a rather lengthy and costly process. Therefore, pre-analysis and sorting before starting the migration process is critical to ensuring the process is a smooth and short one.
Zalaris eFile – The One?
Zalaris eFile is a comprehensive SAP HCM solution for digital personnel document management available in the Zalaris HR Portal (desktop & mobile) and SAP SuccessFactors. It complies with and exceeds all of the desired features mentioned above and embodies all the traits you should be looking for in a document management and archiving solution.
User Friendly
Zalaris eFile is the perfect combination of the capable performance of SAP HCM solutions and the friendly look and feel of a mobile platform.  Setting up a new document management system for the digital personnel file is often time-consuming and costly, requiring set-up, structuring and constant synchronization with your central SAP system. Why not just use your existing SAP HCM system for the storage and management of digital personnel files without the detours? With Zalaris eFile, you'll have the intuitive, user-oriented and mobile-friendly interface available in the Zalaris HR Portal (desktop & mobile) and SAP SuccessFactors.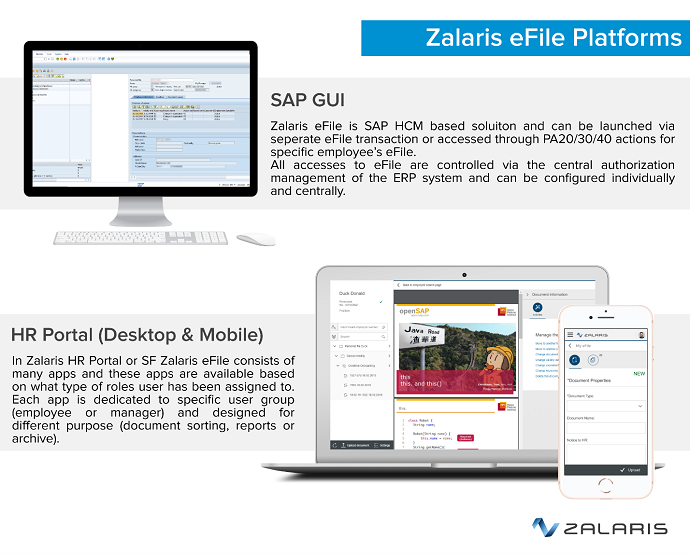 Easy and friendly interface
Zalaris eFile, available in the Zalaris HR Portal or integrated into the SAP SuccessFactors platform, is designed for easy employee, manager and HR admin collaboration and everyday use of the solution. eFile is a user-friendly yet fully functioning front-end solution without the necessity of accessing a back-end solution in SAP GUI. Users can perform all accessing, uploading and maintaining activities of personnel documentation via the user friendly and mobile platforms. It consists of multiple applications each dedicated to a different purpose and user group. These are:
My eFile — Basic functionality for employees to view the documents archived on their eFile
My Team's eFile — Basic functionality for managers to view and upload documents on behalf of their employees
eFile Workspace — Centralized uploaded/submitted document administration for HR administrators
eFile Archive Administration — Advanced archive functionality for HR administrators
eFile Recycle Bin — Overview and basic functionality for documents approaching pre-defined document deletion date
eFile Reporting — Multi-functional reporting and logging tool for audit and tracking purposes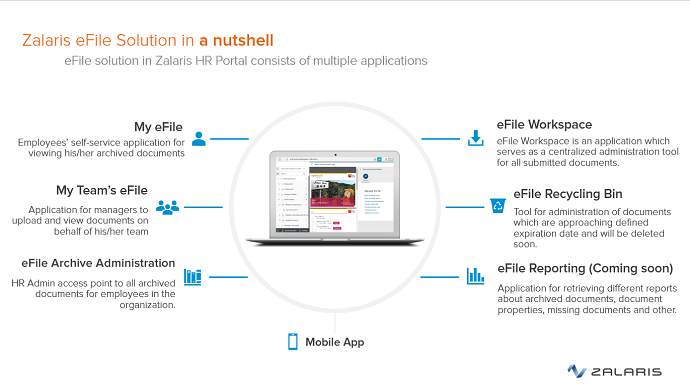 Structure
In Zalaris eFile, as an employee-level solution, all uploaded or archived documents belong to a certain employee. Documents are structured by defined document registers and document types. This register can be adapted and restricted depending on the roles and responsibilities for the user groups. Documents can be easily searched throughout the whole register structure and keywords can be added to each document to make the process even quicker and simpler.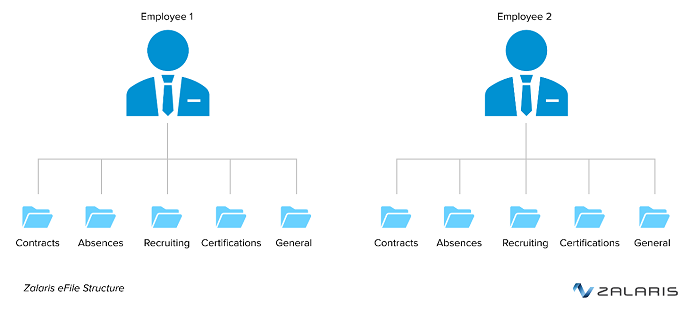 Be Compliant
Your company, as an employer, is required to keep certain documents that belong to your employees for a period of time because of legal or business requirements. However, keeping these documents longer than required can create unnecessary risks. To avoid this, there should be a document deletion policy in place, ensuring that once documents are no longer required to be archived by the employer they are automatically deleted. Zalaris eFile supports deletion rules defined by your organization. These deletion rules can be based purely on document type and validity date or triggered by an action such as an employee leaving the company. Due to local legal differences, deletion rules can differ between countries. There are multiple ways to ensure HR admins can easily follow and control documents about to be deleted – guaranteeing a transparent and controlled environment.
Transition process
Transitioning to a new personnel document management solution can be a challenge, particularly if you'd like to fully utilize the capabilities of eFile and move your existing active personnel documents to the new solution. There is always an option to manage the transition on your own by manually uploading all relevant documents into eFile. However, in addition to eFile implementation, Zalaris is fully capable of supporting your migration and the conversion of your existing active personnel documents. Migration can be a complex exercise. Start by discussing all the pros and cons and decide how Zalaris can support you.
To book a separate product demo and see how your company could benefit from moving your personnel digital archive to Zalaris eFile, please contact us.