Zalaris and Aino Health share a passion for closing the productivity gap from disruption via human resources. HR has an opportunity to drive company culture by truly understanding the expectations and transformation so many companies are forced to undergo in order to attract, retain and set up the rules for lifelong learning.
The two companies seized an opportunity from Digoshen to host an exclusive evening recently from their joint C-level ecosystem, featuring a rising star in digital disruption: Dr. Stephanie L. Woerner from MIT. Zalaris host Sven Hultin took the liberty of sharing his thoughts and observations from the event regarding the expectations of HR and what's needed to continue engaging staff and making the enterprise shine in the process.
It's not often you are able to absorb thought leadership directly from the source, face to face. That's why it was a true pleasure to co-host with Dr. Stephanie Woerner at Epicenter Stockholm on 26 November.
Dr. Woerner introduced herself through the framework of her thoroughly researched book with MIT colleague Peter Weill on approaching digital disruption, "What is Your Digital Business Model?" She encouraged all participants to use this framework, toolkit and its benchmarks to set the disruption agenda from the top — in the board room with the executive team. Why should they care? How engaged are they? How do you best manage the current digital disruption? How do you protect your current revenue streams? How do you capture others? What does "good" look like?
If you think you know the full impact of the widening productivity gap between what's possible and expected today versus what your current performance actually shows, you're likely not fully informed or accountable — unless you are a "disruptive" company or startup yourself. That's why it was a perfect time symbolically to run this ad-hoc workshop at Epicenter Stockholm, one of many startup hotspots in one of the most innovative countries in the world.
The Threat is Immediate
"Large companies (>$7B USD) risk losing 46% of their existing revenues streams from disruption," Dr. Woerner started. Read that again. Do you still feel safe? Do you have everything under control? There are many reasons to feel alarmed.
Dr. Woerner did not share data for non-profit or public institutions, but, personally, I believe these lost revenue streams do mirror similarly large and significant lost capabilities to deliver better public service at existing tax levels (assuming we can re-skill the obsolete workforce to focus on currently ignored human-intensive transactions and let the robots do the time-consuming, back-office stuff). At lower levels, we'd all rather talk to a robot than wait on the phone for someone that is doing repetitive admin work. Disruption represents the opportunity of a lifetime to strengthen public service. That must be good, no?
The Only Suitable Option is to Tag Along and Join the Party
Close the gap by mastering the target digital version of yourself! Grow from there!
Dr. Woerner and her co-author identified four generic digital business models (see below) that also represent different levels of risk, control, customer insight and natural returns. Big companies have a tendency to aim for Ecosystem Driver status, where the returns — as well as the risks — are higher. The task for the corporate champions will be to identify how to excel in one of these four, to leverage content, strengthen infrastructure and maximise overall potential customer experience.
How do you connect with your end clients and employees and leverage that relationship with supporting data? How do you build new capabilities whilst driving overall transformation from the top?
All these tasks seem to point toward the role representing the total workforce — HR.
Cui bono?
If companies continue to focus on running the company with high efficiency at low cost, high compliance, impeccable quality and the accountability to adapt will likely die. We've seen this already as profits diminish with revenue streams at stake. We all know controlled change management is the worse business case — the cost of not doing — but it is more vital than ever. Every role in the company is impacted. The executive team. Every employee. Partners. Customers.
Experience is everything
Companies face the same challenge with their clients as HR does for employees. Clients and employees today expect an integrated and compelling experience across countries, products, processes and interactions. The benefits are huge if you succeed. The punishment is very harsh if you fail. Dr. Woerner highlighted her research's estimated benefits for top performers. In the end, it's not about technology. It's about people. If there is anything HR is capable of, it's cognitive. It's about employees and clients.
"Employees First, Customers Second"

– Vineet Nayar, HCL Technologies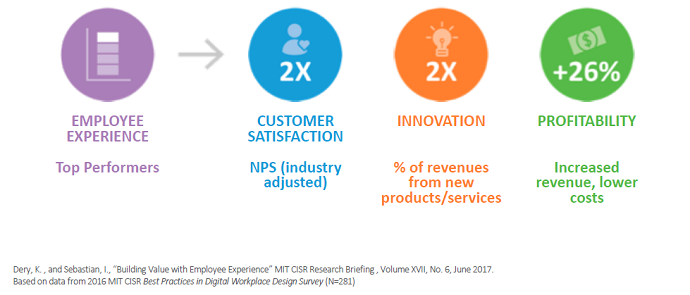 Someone, hopefully also HR, must step up and take accountability to change or co-build the foundation for a larger transformation. It must become a more digital-savvy, networked job environment conducive to collaborative behaviour, with a supportive culture and dedicated budget and framework (not hidden in OpEx) for innovation.  We must be agile and never lose touch with this innovation.
"Top-performing digitally transformed companies spend as much as 25% of their revenue on innovation."

– Dr. Woerner
The bad news, according to research and a quick vote at our event, is that barely half of the executive team are typically actively driving this agenda.
The CIO seems to be the role best fit for cross-functional transformation projects. However, our view is that the CHRO, who would logically represent the journey into new capabilities for the total workforce, should be seen as the leader in closing the disruption gap. They're not — yet. They hopefully will. This is a surprising insight, because in the end, it's not about technology. It's about people.
Hear! We now, more than ever, need leadership that sets cross-company directions and creates a working environment that attracts, supports and prepares employees to perform their best every day in a fun, innovative and motivating culture. This leadership should also be prepared to revisit the company business model and how it makes money, in an increasingly agile manner correlating with the never-ending journey toward the next digital version of yourself. This sets the foundation for profitable growth and new business models. If this is not prioritised by HR, we have some serious challenges coming around the corner soon. Will the current major investments in Robotics and Automation really pay off without support from a strong HR discipline?
What leadership role will be the champion?
Call to Action!
Dr. Woerner's book, thought leadership and framework provides a powerful toolkit for large companies looking to become a better digital version of themselves, from self-assessment to benchmarking. Use the questions. Build your own change awareness and change readiness baselines, across the leadership team and across the board. Discuss your current business model and your future digital one.
Take it from there!
If you're hesitant on how to best run and/or change your company via HR to close the productivity gap, reach out to me and Zalaris.
If you want to control and leverage the true reasons for sick leave and absence during this major digital disruption shift and what it means for lost productivity, reach out to Johan Strömberg and Aino Health.
Thank you, Dr. Woerner, for taking the time to share with those of us who came! Thank you, Johan Strömberg, Aino Health and Katy Caroan from Digoshen, for making this happen! Thank you to all the executives who took this opportunity to listen, vote and discuss!
Until next time…