I interact frequently with leading global, regional, as well as local analysts & influencers in Zalaris' space of business to value maximization via HR transformation, outsourcing and automation.
The macro trends define an HR agenda for the disruption that illustrates a clear tipping point of exponential change globally, however, the local hands-on initiatives to reap the benefits from closing any associated productivity gap between what is possible and what is happening in practice locally are still not very visible. The HR community lacks brave and visible heroes or role models for inspiration that could accelerate HR innovation. HR together has a social responsibility to either close that gap or mitigate its impact if they don't.
We all need more stories to learn from as the trash-talk is limited in the HR community about disruptive change compared to how, say, start-ups collaborate head to head. The biggest competitor for HR, its business and their extended capability from trusted partners like Zalaris is status quo doing nothing.
My Finnish colleague Juho Seppala just shared insight into the Finnish market including some focused, informed and prioritized activities expected to drive business benefits via HR. We need more local inspiration like this. I professionally am very proud to share this with you:
Read his paper on "Three Brave Finnish Pioneers in HR"
Inspired by this article, I must reflect on three bold moves that HR must take.
Every other discipline has been transformed dramatically over the last 20-30 years save HR. The HR agenda to a great deal is still cost driven, stuck with compliance focus and transactional operations. We all know HR represents the workforce and its combined capability. How do they ensure and know their total workforce is capable at all?
Bold Move 1 – Do not measure employee satisfaction, monitor engagement!
HR still insists on measuring Employee Satisfaction whereas Employee Engagement matters much more. The current belief in HR today is still based on Heskett Service-Profit Chain from HBR 1994 which was "a revolutionary insight" back then as we moved from production industry to service industry. Today we are slowly moving from global service processes towards "coherent experiences with a purpose for a workforce where close to 50% are not even employed".
• Employee engagement matters and also applies to the contingent workforce.
• Every known business model and/ or parts of it is being disrupted as we speak.
• There is no link between satisfied clients and loyal clients.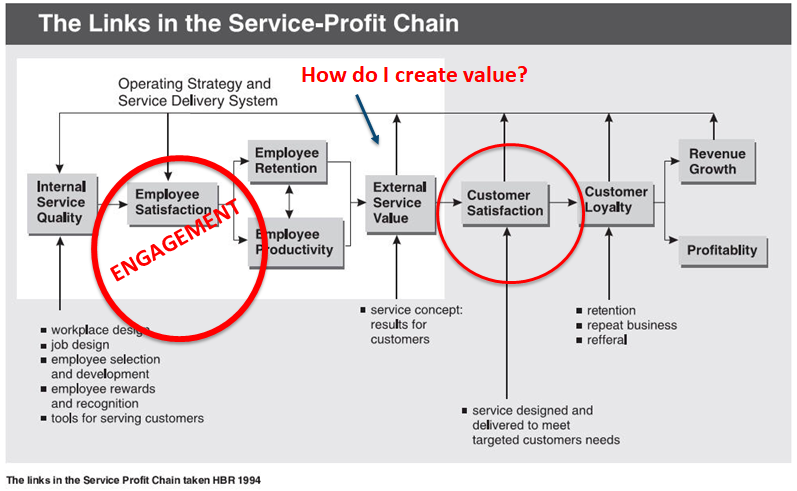 Bold Move 2 – Retain your critical staff by delivering a coherent experience via HR
• The workforce has high expectations on HR as any other service experience.
• The low hanging benefits from automation comes from integrated solutions so why focus on technology when it's all about the people using it? Shift focus from process to experience.
• Zalaris' service solution blueprint fits in Everest' anticipated model of HR services 2018-2020.
Bold Move 3 – Build a culture of digital natives to close the productivity gap
• Do mind the gap! Read Deloitte 2017 HCM Trend Report, "Introduction, page 2+".
• Expect self-leadership from the engaged digital workforce in your networked, social organization.
Bottom Line – The ERP OF HR = Engagement + Retention + Productivity
Acquiring future skills will be expensive. It is better to reskill now. A lot of current activities will be obsolete over the coming years. If HR understood the full impact of automation and communicated this to the staff, they could start reskilling now. To understand target skills, they need to understand the business model. To understand the target business model, they need to sit with the business now. If not, they will face a hard wall of expensive obsolete capacity in a couple of years. The business need is retention. The cost of not doing will hit as hard as the shift from production to services did; as the shift from local services to global services did.
Skip your talent pools. Build target skills pools in order to ensure the overall capability gap, and close or minimize the productivity gap. Mind the gap now as transforming HR has never been more relevant.
Change does hurt but it is needed and it will continue like this with new HR releases every quarter or year. If you change with a purpose change is suddenly engaging, so start with the 'why?'.
We will face massive reskilling needs across the society in the coming years. Today this is an opportunity that cannot be missed by you, me, HR, organizations and nations.