This replication focus demonstrates how SAP is committed to getting Employee Central (EC) and Employee Central Payroll (ECP) systems further aligned, particularly around localised legal requirements.  
The headline change is the inclusion of a new local version for Slovakia, taking the number of countries now supported up to 48, Turkey appearing in the 1H release this year. There are further localised legal changes, including integration to SAP SuccessFactors Onboarding for the UK. 
I am pleased to see the PCC is further enhanced through the "Manage Configuration" dashboard. In addition, SAP has introduced better tools to improve system performance, particularly around proxies, unnecessary replication (in test systems) and audit trails. 
SAP continues to innovate the integrated EC/ECP package. This release sees some enhanced payroll tasks, changes to the home page, and a useful addition to the rule function to get the complete payroll area control record. 
New Version for Slovakia and Country Specifics
Employee Central customers with a presence in Slovakia will, of course, be thrilled to learn that in this new release, there is now a version for Slovakia. Replication has been enabled so customers will be able to run Employee Central Payroll for Slovakia, and this by definition includes the replication of Payment Information (Infotype 0009 Bank Details). 
Localised Changes
As well as the new version for Slovakia, there are some replication alterations in various countries, some of which are legal changes.
Country

 

Detail

 

Tunisia

 

 Address replication introduced

 

Czech Republic

 

 Payment Information – Bank details included

 

Australia

 

 Genuine redundancy and early retirement scheme payments – alignment with Age   Pension qualifying age

 

Brazil

 

 eSocial – Simplification New Layout (version S-1.0)

 

Italy

 

 COVID19 – New hourly parental leave for 2021 for employees whose children can't   attend school – Circolare   INPS 96/2021

 

USA

 

 ECP Tax Reporter Q2/2021 for Form 941 – COVID19

 
EC / Master Data Replication
Employee Central – Payroll Information/Mashups 
In Employee Central, you can now set your Payroll Information Links (your mashups into ECP) to open in a new tab in your browser. You can use Payroll Unified Configuration in EC to set the setting for this feature. 

Figure 1 – New setting available in Payroll Unified Configuration 
No-Shows 
New starters failing to turn up is an unfortunate fact of life for HR and payroll administrators. With the "No-Shows" event possible in EC, users can now map it in replication to create an inactive hiring action in ECP. This additionwill assist payroll administrators in keeping track of no-shows in the relevant status. 
Cost Distribution 
The basic extensibility mapping config has been updated to allow replication into the fields Internal Order and WBS Element of Cost Distribution.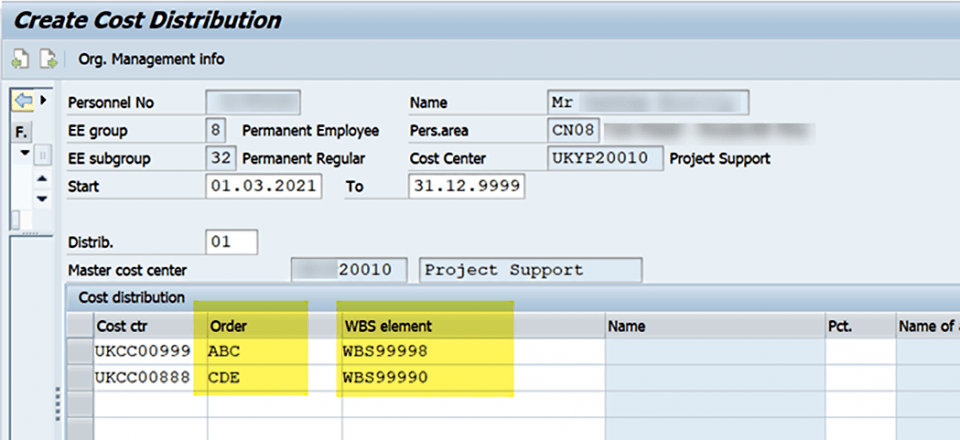 Figure 2 – Cost Distribution Infotype fields can now be replicated to 
Integration of Starter Checklist Form From Onboarding (UK) 
This change is a new integration framework to capture data from Onboarding compliance forms into Employee Central Payroll Infotypes. In the UK, he form for a new starter (the Starter Checklist) is now integrated with the relevant infotypes (0065 for Tax Data GB and 0070 for Student Loans). 
Figure 3 – Starter Checklist in the United Kingdom and how it maps to ECP Infotypes 0065 and 0070 
Get Payroll Area Control Record Rule 
This rule now returns the complete payroll area control record, including the following. 
Current period.

 

Next period.

 

Begin and end dates.

 

Current status.

 

Date up to which retroactive accounting (earliest retroactive accounting date) is possible.  

 
The last one listed is particularly useful because it will prevent employees and administrators from entering past dated data changes in EC, which might otherwise cause replication failures. The system can now be set up with a rule to raise an error message when changes are attempted before the control record's earliest retro accounting date. 
Payroll Control Center
Audit Trail Archiving 
Completed process recurrences of PCC can now be archived using archiving object PCC_AUDIT. This should support information lifecycle management for customers. 
Manage Configuration Dashboard 
Manage Configuration in the Payroll Control Center has been enhanced for greater flexibility and should allow users to make focused business-related changes to manage payroll processes. These changes include the following. 
Analytics object type for grouping KPI's.
Alert dependency.
Preview of a validation rules and KPI's.
Alert operations can now be assigned to validation rule types.
Time Data Changes
System Maintenance 
Automation logic is now available to avoid excessive, unnecessary replication attempts and reduce the loads on large-scale systems. After 150 failed attempts at replication, the Data Replication Proxy is set to 1,000 years in the future so that, in effect, no further attempts are performed. This logic is particularly useful for non-productive systems where these scenarios are most likely to occur. 
There is also an easier and more efficient way to delete obsolete proxies. The new release includes a 'Trigger Data Replication Proxy Deletion Job' under Manage Data. 
Proxy Creation based on changes in Time Account Data 
Time account changes generate data replication proxies at the moment. With the new release, a time account change will only raise an event that is processed by an event subscriber. That event subscriber then generates a proxy. 
Payroll Tasks 
Under Payroll Unified Configuration, there is a new type of payroll task for absences. Administrators can now receive tasks or filter employees using this new type of task. 
Complete Payroll Tasks is now also a quick action included on the latest home page. It enables users to view the list of employee events and corresponding infotypes required for payroll.  You can view the task details and set the status of the payroll tasks.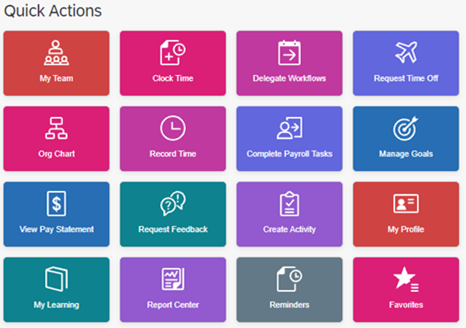 Figure 4 – Quick Actions on the home page now includes 'Payroll Tasks' 
Conclusion 
As SAP continues to grow its highly successful SuccessFactors Employee Central product, innovating and developing specific aspects relating to Employee Central Payroll will naturally evolve. Existing on-premise payroll customers will already trust SAP to provide timely delivery of ongoing legal changes for their country. Still, the linkage to Employee Central through replication and interface through Payroll Control Center is, by comparison, immature. I am pleased to observe that the changes in this release reflect ongoing commitment and investment in this area and respond to customer feedback. Each release sees an additional country added with release 1H 2022 expected to have a new local version for Romania and further localised Onboarding integration.  
At Zalaris, our customers continue to challenge us with requirements for advanced HXM products that improve the end-user experience. As an SAP Gold partner using our Partner Managed Cloud agreement, we are delighted to offer Employee Central Payroll under our own instance. The economies of scale benefit enable us to manage and develop a single payroll platform cost-effectively for our customers.