What is clearly visible in this release is development in many areas, such as the continuing development of the 360-Review Multi-Rater and improvement to user-friendliness for managers and employees.
With 8 of the 15 enhancements set as universal changes (i.e. there is no configuration to enable/disable the feature), this release provides valuable change across the board to Performance and Goals users. In this document, five major, universal changes are described highlighting different features for Performance Forms, Multi-Rater, Configuration Center, To-Do List and Table report.
Performance process
Below are the major improvement applied to Performance in this 2H 2021 release.
Performance Review Tasks on the Latest Home Page
The performance review process can involve managers, second-level managers, and employees who need to take actions, including self-assessment, manager assessment, and others. For company structures with lots of direct reports and many SuccessFactors modules and business processes implemented, the manager needs to prioritise the tasks and act on time. 
Employees involved in the performance review process want their most urgent, pending tasks to appear on the home page to take an immediate decision.  
To answer this business need, the latest home page has been updated so that both managers and employees can view the Review Employee Performance and Review Your Performance tasks in the For You Today section. So, users can first act on those actions required to be completed by a certain date and can go directly to the performance review forms from the home page to complete the associated tasks.  
If managers have more than one task, specifically when many employees report to them, cards are structured into Direct Reports, Matrix Reports, and other groups. This grouping offers managers a more organised view of the forms requiring their review. The new cards implemented in this feature ensure that managers and employees give prompt attention to performance reviews that await their immediate response.  
It is worth mentioning that similar functionality introduced in the 2H 2021 release has also been applied to the 360-review process.  
The screenshot here shows this new feature implemented for reviewing performance tasks: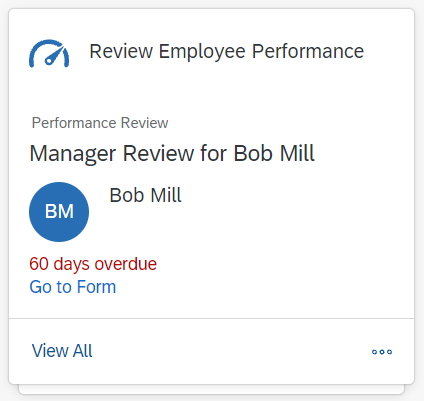 Figure 1 – Performance Review Tasks
More To-Do Tasks on the Latest Home Page
This new, major feature implemented in this 2H 2021 release shows the improvement of the home page and to-do list of SuccessFactors: 
In this release, more to-do tasks have been added to Home Page. These new tasks are related to Performance and Goals Management Processes and other HR processes, including Career Development, Compensation, Employee Central, Learning, Onboarding, Recruiting, Succession Planning, and others. 
Tasks awaiting a user's/manager's/HR business partners/etc. approval appear in the Approvals section and other tasks will appear in the For You Today section.  These to-do tasks will need to be enabled in the Upgrade Center if you would like to use them.  Business tasks that have been added in this release to the For You Today section and related to Performance and Goals are described below. 
Business Task

 

Description

 

Complete 360 Reviews Tasks

 

  Prompts to review and complete the 360 Reviews form of employee and others.

 

Complete Calibration Tasks

 

  Prompts to review and complete the calibration form for employee and others.

 

Review Performance

 

  Prompts to complete the performance review task for employee and employee's team.

 
Multi-Rater 360-Review
Below is described the new, major feature implemented for the 360-review process in this 2H 2021 release. 
Add External Participants When Users Have No Search Permissions
In the 360-review process, the subject (i.e., the employee in the centre of the process and whom feedback is given) can receive feedback from different employee categories. Those categories may include manager, peer, direct reports, and external participants, such as partners that the company collaborates with. 
The people involved in each category may be invited by the subject's manager, HR business partner, or by the subject. Due to data security restrictions, it may happen that users do not have permission to search for external employees.
This new feature rectifies this and enables users, that do not have permission to search for external employees, to add external users as form participants. This addition is accomplished by identifying them with their (unique) e-mail address. 
During the selection of employees for each category, the users (subject, managers, etc.) can enter the e-mail address of an external user in the 'Add a New External Participant' dialog box.  If the external user already exists, the first and last names are automatically filled, and users can add the external user as a participant in the 360-review process. 
This newly implemented feature gives greater flexibility to adding external users as participants while keeping the system permissions that already exist in the system. 
The screenshot here shows this new feature of how an external participant can be added by entering an e-mail address.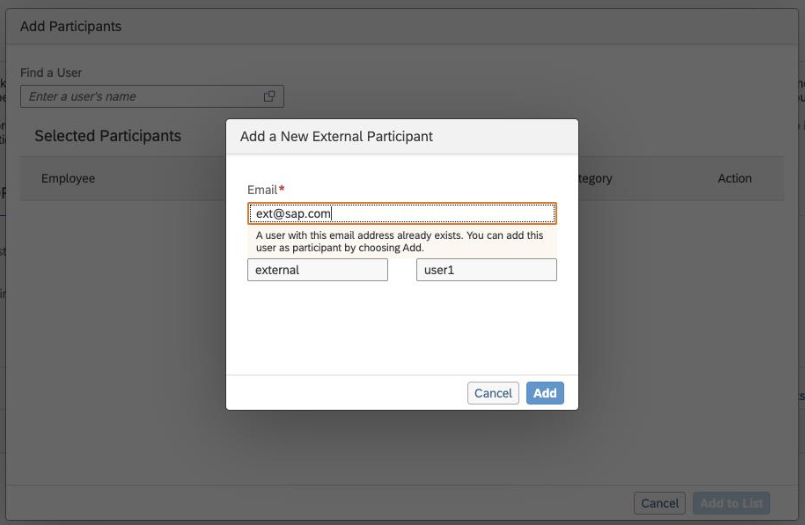 Figure 2 – Multirater – adding an external participant 
Report Administration
This new feature has been implemented for Performance and Goals reports and other module reports across the SuccessFactors system. 
Addition of Time Zone Resilient Date Fields
This newly introduced feature allows some date fields (columns) for table, tile, canvas, and story reports to be appended with either a timestamp or datestamp. 
These new fields display a transaction date per the tenant (system) preferred time zone or the logged-in user's time zone. In comparison, the fields suffixed with a datestamp do not take account of the time zone and will always display the same values. 
The date/time suffix in the new fields indicates that the fields are resilient to time zone changes and enable you to normalise the impact of any time zone changes that may occur. 
It is highly recommended to replace the older date columns in your table, tile, canvas, and story reports with the new field versions, which are time zone resilient. Only the newer version of the fields will be usable in future reports. 
Technical
Configuration Center
This new, major feature implemented with the 2H 2021 release shows improvements made to the Configuration Center  
The company's employee performance process can vary for different employees' groups (managers, non-managers), business lines (sales, production, administration, etc.), and specific country requirements. 
These variations would require multiple performance forms to be configured for the company during an implementation project. As part of the project, performance templates must be configured, tested, and transported between tenants (SuccessFactors systems). 
In this process, the Configuration Center simplifies all those change management activities, including viewing, downloading, and transporting approved configurations across tenants. 
Having this new feature implemented, it is possible to also view, download, and transport the performance management form templates using Configuration Center. Thanks to this feature, the process of implementing performance forms and configuration becomes easier and faster, with less risk of introducing errors when transporting templates between your systems. 
Please note that the 'Performance Management' setting in Provisioning should be enabled to use this feature. To complete tasks in Provisioning, an implementation partner (like Zalaris) should be contacted, as customer's do not receive Provisioning access. 
The screenshot shows this new feature implemented to download, review and transports templates for performance management.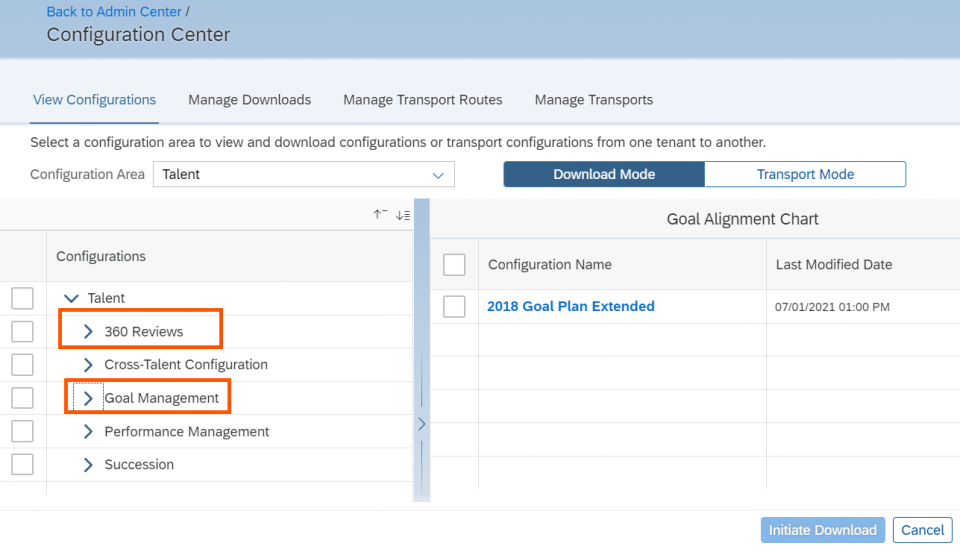 Figure 3 – Configuration Center 
Conclusion
Many enhancements in this 2H 2021 release for Performance and Goals Management are universal, resulting in most users reaping the benefits, where appropriate, with a minimal outlay of effort.  
Many of the enhancements I have described in this article have come from customer recommendations through the SAP "Customer Influence" platform, showing SAP SuccessFactors continued and dedicated response to their client needs – a factor we have all become accustomed to from SAP. 
The list of enhancements described here is not the complete list from the 2H 2021 release for PMGM but is my objective selection, which I find especially interesting.