However, knowing SAP SuccessFactors, if there are only a few updates for core modules, there should be something great that the team has been working on. It is time to reveal it now – SAP SuccessFactors Opportunity Marketplace.  
Development Goal Plan Enhancements
Since the latest version of the Goal plan has been released, the new features are enhanced to close the functionality gaps between legacy and the latest Goal plan versions. 
It is now possible to import personal goals for Performance and Development goals through the Admin Centre. Features supported in these functions are limited to the supported features of the latest version of Goal Management. 
It is possible now for users who have the change-state permission to change the goal plan state using a more intuitive user interface. In addition, they can now receive email notifications when the goal plan state changes. This is an improved feature that a Customer Community idea has inspired. 
Another functionality gap closure is for the People Selector. Users with the appropriate permissions can now search and access other people's Goal plans. In addition, People Selector now includes, by default, the following hierarchical relationships: a user's line manager, matrix manager, direct reports, and matrix reports. 
Mentoring Enhancements
As part of the latest ("reimagined") home page enhancements, managers can approve or decline employee requests to be a mentor. The new approval card shows when the request was submitted and which mentoring program it is for. Directly from this card, managers can approve the request or decline it. They may optionally add supporting comments. 
There has been a removal of notifications about a mentor's availability change. Customer feedback indicated that existing mentees who are already paired with the mentor shouldn't get notified in such a case. 
Refined email notifications to mentors, mentees, managers, and administrators in Mentoring have been released. Unnecessary links are removed, and the message conveyed in the emails has been simplified for clarity.  
General Enhancements for Latest Home Page
After releasing the latest home page, some of the to-do tasks were not supported or were only partly available. More to-do tasks become available in this release that will appear in the "Approvals" part if they require your approval, and the rest will appear in the "For you Today" section.  
Business Task

 

Area

 

  Latest Home page Section

 

Description

 

  Approve Job Profile Changes

 

  Platform - Job Profile Builder

 

  Approvals

 

Enables you to approve or decline changes made to your job profiles. Job profile change requests raised for approval can be for new job profiles or modifications to existing job profiles.

 

  Approve Mentor

 

  Career Development

 

  Approvals

 

Enables you to approve or decline an employee's request to be a mentor.

 

  Approve Talent Pool Nominee

 

  Succession Planning

 

  Approvals

 

Enables you to go to the talent pool to approve or reject pending nominees.

 
Career Explorer Enhancements
Career Explorer is the tool that is available only for Early Adopter Care (EAC) program customers. In this release, there are more universal features that improve the user experience.  
It is now possible to exclude job roles from data sync between your system and the People Connection system so that they will not be recommended to employees in Career Explorer. This feature allows excluding the roles not actively used in your system, ensuring they will not pop up as "recommended" in the Career Explorer.  
Another enhancement of Career Explorer is that job roles with longer names will be displayed in full, and the card information is more informative. 
SAP SuccessFactors Opportunity Marketplace
The concept of Opportunity Marketplace is nothing new. However, for SAP SuccessFactors customers, this is one of the biggest and most significant technology solutions and innovations in talent modules in the last couple of years. For sure, we have been waiting for a solution that improves internal mobility and connects employees with individualised recommendations for learning, mentoring and career growth.  
The Opportunity Marketplace will use the power of machine learning. It will leverage the data from the Career Development Planning, Center of Capabilities and Learning modules to make the best recommendations to the individual, based on information that the system contains about their capabilities.  
First, we heard about the Center of Capabilities – the foundation of Opportunity marketplace in 1H 2021. The main functionality of the feature is to gather skills, soft as well as job-specific competencies, aspirations, and interests, all in one place. A centralised repository, organising these capabilities under different libraries, categories and groups. The currently available capabilities are competencies, with further enhancements planned for subsequent releases. The Center of Capabilities is built on top of Job Profile Builder. It, therefore, uses the Metadata Framework (MDF) to enable customers to create and manage database object definitions, relationships and hierarchy. However, if Job Profile Builder focuses on a "Job", then Center of Capabilities focuses on a "person" and their preferred way of working, learning and growing.
 Figure 1 – SAP SuccessFactors Opportunity Marketplace: Opportunity Types (Source: SAP SuccessConnect) 
The core features of Opportunity Marketplace are: 
Possibilities to create assignments

 – those can be temporary assignments like projects, tasks, fellowships. Managers can find qualified talent, and employees can accomplish a common task, gather new skills and experience, or collaborate to achieve something new. 

 

Learning recommendations

 – upskilling and reskilling based on aspirations and interests. Learning recommendations can be assigned by admin through Assignment profiles, recommended by peers or personalised (recommended based on machine learning algorithms). 

 

Career growth and internal job opportunities

 – By adding target roles, employees can have transparency into potential job opportunities and can fulfil their professional aspirations in a familiar workplace. The source is the Suggested Roles feature within the Career Worksheet Template or the Career Explorer feature in Career Development Planning, depending on the configuration. 

 
Mentoring

– join open enrolment, supervised or unsupervised mentoring programs.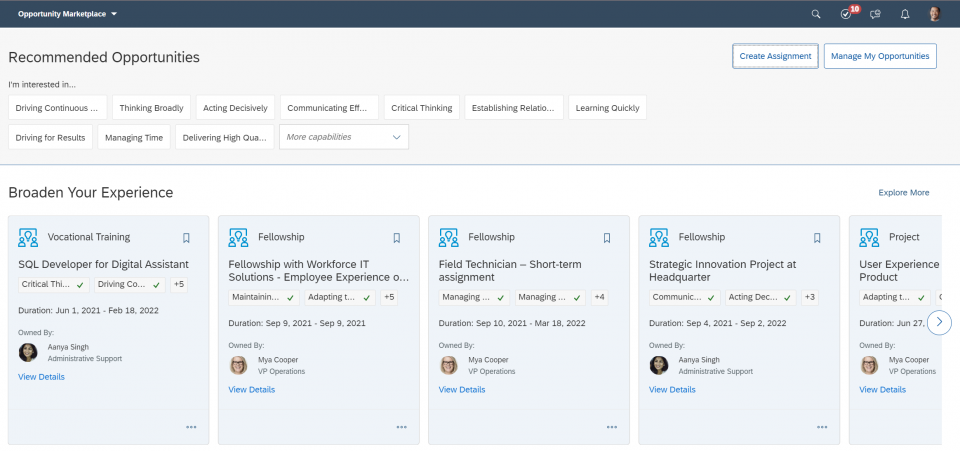 Figure 2 – SAP SuccessFactors Opportunity Marketplace: Recommended Opportunities (Source: SAP) 
The main prerequisite for enabling Opportunity Marketplace is Job Profile Builder and the new role-based permission for this feature (User Permissions > Opportunity Marketplace > Opportunity Marketplace Access). To utilise all of the functionality, it is still essential that job roles are connected to capabilities and properly maintained; otherwise, the respective section in the Opportunity Marketplace will not be shown. Learning recommendations will need to be activated for those customers who have their SuccessFactors and Learning tenants in the same data centre. Opportunity Marketplace is also available within the SuccessFactors mobile app (on iOS and Android phones) with features for employees to gain experience through assignments, upskill themselves and explore career opportunities – watch the demo here. 
Conclusion
This release contains several useful minor enhancements which improve the user experience. However, the most exciting news is understandably SAP SuccessFactors Opportunity Marketplace. This feature will bring the most value to employees and those who are keen to take all opportunities from SuccessFactors talent modules. It will be a great tool that will integrate Learning, Career modules and Center of Capabilities in one common place and recommend career growth paths by taking relevant assignments and improving capabilities or via personal development through learning.