Welcome to part one of our review of the H2 2020 SAP SuccessFactors update.
Following on from Stephen Burr's introduction post, we begin our first set of articles with Employee Central and the Employee Central Service Centre.
SuccessFactors Employee Central: Core
Tobias Becker kicks off our series with a look at the core HR system for SuccessFactors, Employee Central. With lots of focus on user experience and optimisation, ready yourself to take advantage of everything this update has on offer.
SuccessFactors Employee Central Service Centre
Stephen Millard follows on with his Employee Central Service Centre article, taking a look at the continued development of the C4C Home page as well as touching upon an appreciation for the increase in configurability seen in Ask HR.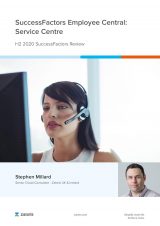 We hope you enjoy these initial articles in our SuccessFactors release, and that you will return each day to explore the rest of our series published throughout the week.
If you have any feedback on the articles, please contact us directly, or reach out to us on social media via LinkedIn or Twitter.
Please do continue to share these articles with your peers, colleagues, and connections. If you have not already done so, subscribe to our mailing list on this page for our news and updates like this.
We follow this week's series with a link to a special consolidated PDF eBook version. These eBook versions make an excellent searchable reference.