The second day in our series promises to be another interesting one with our consultants insights focused on Integration with our Cross Topics article, the SuccessFactors platform features with our Foundation article, and last but by no means least, a reflection on the journey to Intelligent Enterprise with our Analytics article.
SuccessFactors Employee Central: Cross Topics
Stephen Hammond launches today's set of articles with a look at some of the new technical underpinnings for data integration. ERP integration configuration looks to become a little easier, and integration between S4/HANA and EC Payroll gain some useful new features.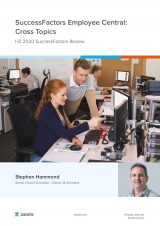 SuccessFactors Analytics
Alexander Friesen discusses the key features seen in the H2 2020 release, bringing reporting in SuccessFactors away from siloed data and a diffused set of tools towards more unified data model and modern visualisations. Read on to see how these enhancements are set to improve usability and meet many of your analytics needs.
SuccessFactors Foundation
Christine Ibrahim discusses the Universal and Admin Opt-in features underpinning the core platform of the SuccessFactors suite, with a focus on the H2 2020 aim of providing a uniform user experience across the full suite. Data protection and integration appear to have received valuable focus this release.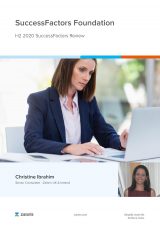 We hope you enjoy these initial articles in our SuccessFactors release, and that you will return each day to explore the rest of our series published throughout the week.
If you have any feedback on the articles, please contact us directly, or reach out to us on social media via LinkedIn or Twitter.
Please do continue to share these articles with your peers, colleagues, and connections. If you have not already done so, subscribe to our mailing list on this page for our news and updates like this.
We follow this week's series with a link to a special consolidated PDF eBook version. These eBook versions make an excellent searchable reference.