In my summary, I have picked out some high-level information about the release as well as my observations.
As I said in my introduction blog, this is the largest single release I have seen from SAP SuccessFactors with over 300 changes.
This is the first year since moving from quarterly to half-yearly releases, and overall, it has meant a drop in the total number of updates over the year (mainly due to a third fewer 'Universal' updates). But size is not everything; this release and this year have certainly brought an abundance of features and innovation.
The module that has seen the most increase in change in 2020 (vs 2019) is Onboarding; not unsurprising considering that Onboarding 2.0 is relatively new. Also, I noticed increased activity in Learning (the new Admin user interface) and People Analytics updates. Conversely, after a bumper couple of years, Recruiting has seen a slow down in the number of features in the two release updates this year.
A common thread during this year has been the intelligent enterprise – joining up information from different areas and providing it to the user at the right time – turning "insight into action" to borrow SAP's phrasing. On this theme, we've seen a reimagined home page, a new digital workplace (SAP Work Zone for HR), increases in the ability to capture feedback at key points in a process, and the continued growth of the content provided in People Analytics so that it is easy for customers to consume and benefit from.
Has the switch to half-yearly releases worked? My observation is that it has. I think customers are still getting a high rate of innovation (~600 changes a year), and they are better able to manage the change. I have also observed that the documentation for each release, as well as the product help and supporting documentation, have been improving which should improve adoption.
That brings me nicely to my final topic. As usual, I want to finish by highlighting a useful SAP SuccessFactors resource. This time I would like to spotlight something which helps to ensure that solutions are aligned and can best take advantage of the sorts of things that we have seen coming through; something known as ALP (Architecture Leading Practice). The ALP is a set of recommended configuration decisions and guidance on topics associated with a SuccessFactors implementation. They were released over a year ago and are a welcome addition to other implementation assets (such as Best Practice content and Implementation Design Principles & Guides). For more information on each of these assets, I recommend this SAP blog which will talk you through this diagram: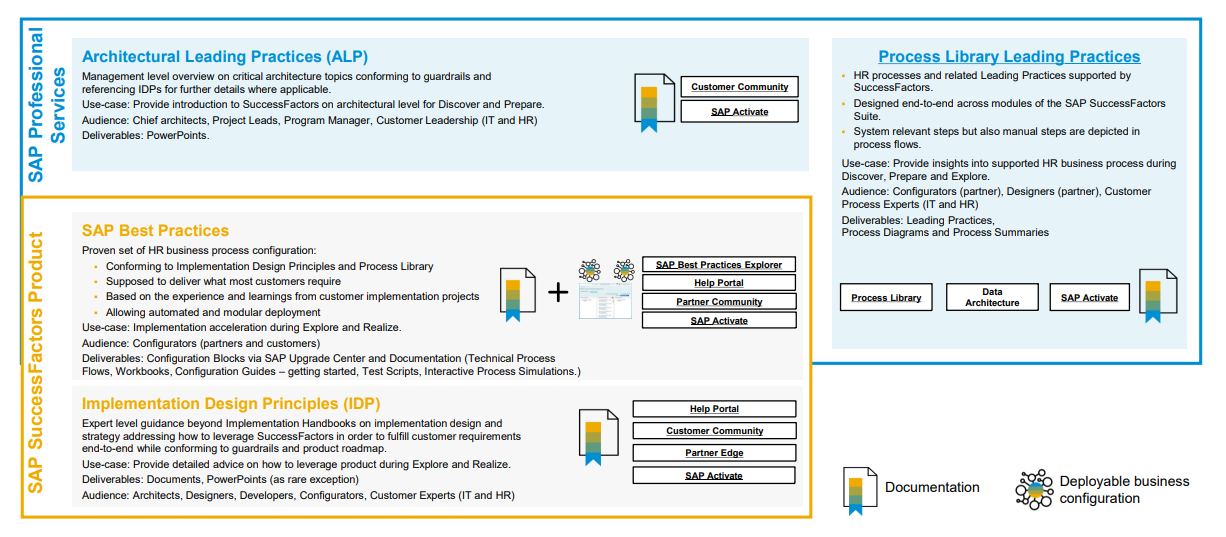 Unlike the Best Practice content and Implementation documents, the ALP documents aren't specific to a module. Instead, they look at cross-function topics or implementation considerations which can be imperative to successful delivery. For example, Job Architecture, Data Privacy and Data Migration strategies. For a full list of ALP topics, please refer to this SAP Community article – check them out!
I hope you have enjoyed our series of posts on the 2H 2020 release of SAP SuccessFactors. If you haven't read the other posts yet, I encourage you to go back and see which areas spark your interest. Also, please keep an eye on our website and our social media accounts on LinkedIn or Twitter for this release's eBook covering all the articles – it will be free to download, and you are welcome to share it with your colleagues.
I want to take the opportunity to thank my #teamZalaris colleagues across the world for their hard work in bringing you their insights. I also hope that the broader SAP SuccessFactors community has found them useful too. We would love to hear your feedback! (by email or via our social channels on Twitter and LinkedIn).
If you are interested in SAP SuccessFactors and our expertise across Scandinavia, Germany, Poland, Baltics, UK & Ireland, please reach out to us via our contact page or by email, and we look forward to speaking with you soon.
Preview instances of SuccessFactors were updated on 16/17 October 2020, and the production instances are due to be updated on 20/21 November 2020.
We will be back for H1 2021 (16 April 2021 to Preview, 21 May 2021 to Production) next year!