As you should hopefully be aware by now, the SAP SuccessFactors team have been progressing with a new home page design that is intended to make the system feel much more personal and provide a more tailored experience for users such as onboardees, employees, and managers.
After much criticism and delays, the development in this area has vastly improved, specifically in the latest SuccessFactors release (2H 2021). This indicates that they are greatly closing the gap on any issues, and it seems much more likely that this will happen, with no further delays to the rollout.
In light of this, now is the time for customers to be testing this update and planning for the pending changes, as this may result in a lot of change management activities for users, especially if you have multiple SuccessFactors modules implemented. The change will affect every user in some way so it is important that this is not ignored, otherwise you may be in for a surprise with the next release!
SAP Announcement on Change to Universal Upgrade Plan
SAP have announced that they are requesting for all customers to pause on all Reimagined Home Page upgrades whilst they make improvements to allow for a seamless migration.
Please note: If you are fully live in production with the Reimagined Home page then this does not impact you.
Timing
Customers may resume self-migration activities beginning in:
 June for Preview instances
July for Production instances
We intend to initiate Universal Upgrade activities for all remaining customers no earlier than:
August for Preview instances
September for Production instances
Additional detailed plans regarding the schedules for self-migration and the Universal Upgrade will be shared in the coming weeks.
Below are just some of the major changes resulting from the home page
Theming of the home page will change with a new welcome banner and tiles being replaced by 'cards' which will stack for common categories based on urgency.
Quick actions for commonly used self-service features, key business processes, reminders, and favourites.
A 'For You Today' section which will show users tasks that they have due or outstanding
Workflow approvals for processes across all SuccessFactors modules will appear for users to process, including an optional quick approval feature.
The onboarding experience for new hires has changed, grouping tasks into different categories for the user to work through.
Custom tiles are replaced with custom cards which will need to be reconfigured.
Dashboards will no longer be shown directly on the home page.
Plus, many more changes!
You can find a complete list of changes on this SAP Help link and below you can see an example of how this may look for a typical manager.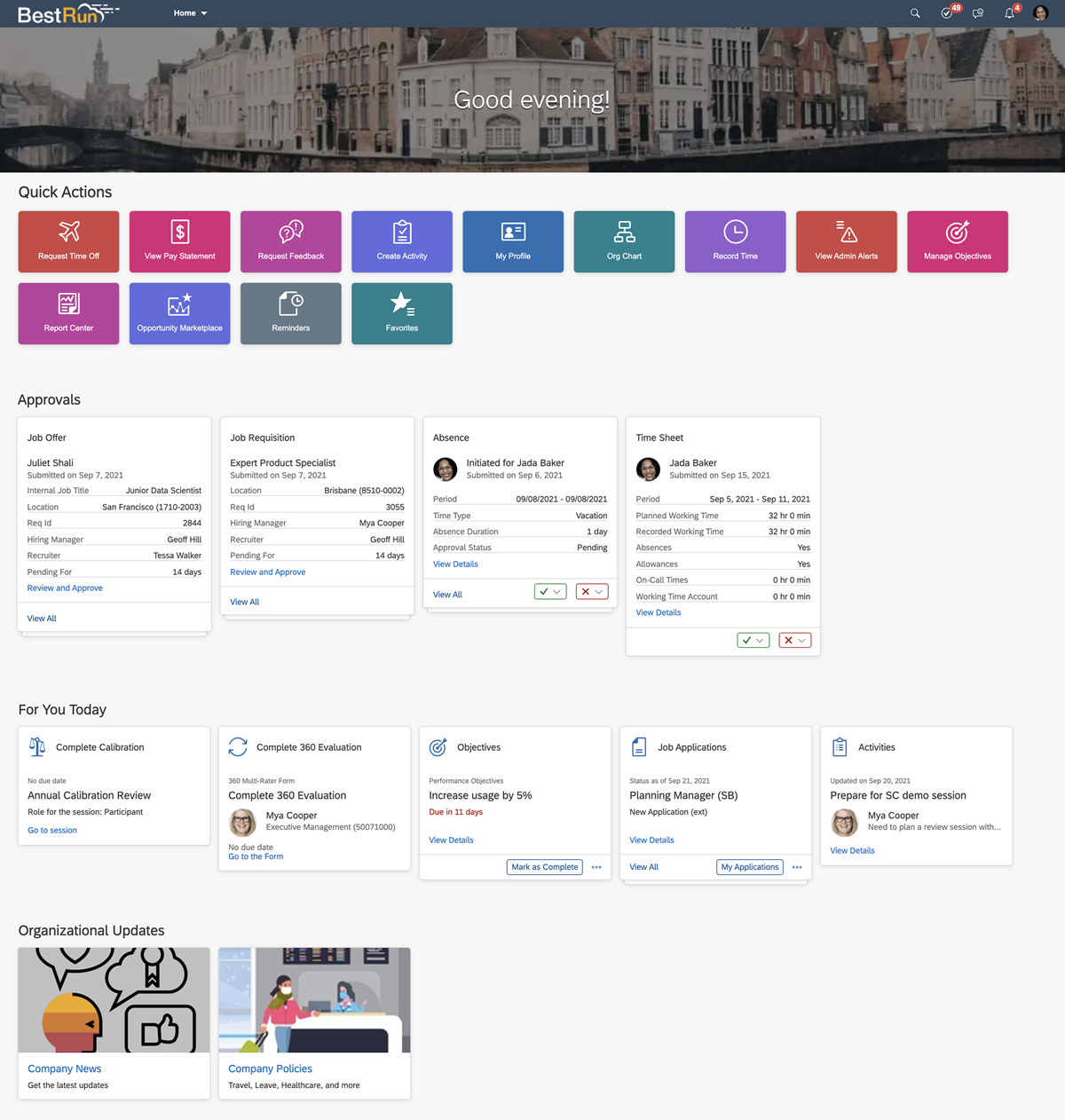 Figure 1: New "Reimagined" Home Page
Just seeing the look of the new home page and then hearing of the number of different changes it will apply, may fill you with dread as an administrator. It is best to start planning for this update as soon as you can to allow for time to apply the update, resolve any issues, and get used to the changes themselves. The last thing you will want to do is wait until the last minute or even not do anything or you may unknowingly be left with functionality (particularly custom tiles) which do not display properly, or business processes which now all work differently.
Hopefully this article spurs you on to manage this change sooner rather than later and provides some insight into how you can approach it.
But why not let Zalaris help you!
We have excellent SuccessFactors certified consultants at hand to support you through the process of transitioning to the new home page, and we can help you with our offering below which can be tailored to suit your needs. Options in our package for this piece of work include, but are not limited to:
Review your system documentation (workbooks, business process guides etc.) and the make-up of your system.
Ensure each of your environments are aligned to allow for positive testing moving forward.
Assess and document the impact of the new home page on your system.
Plan changes and testing required, including archiving of old or unused functions.
Activate the new home page in your development/test (non-production) environment(s).
Carry out any remedial work to fix issues, recreate custom content, etc.
Unit testing of changes and new functionality.
Playback appropriate changes to business stakeholders for further review.
Create and/or update any required training documentation to support employees, managers, administrators, and other roles (module dependant).
Support user acceptance testing.
Plan and implement the cutover to production, supporting change management within your business.
Provide hypercare support of changes for an agreed period of time.
And remember that the changes don't stop with this update, the home page will constantly be updated with new or changed features at each release (bi-annually). It is important to keep reviewing and assessing the impact of these which obviously Zalaris are happy to help with. Why not follow our Release articles (or sign up for our newsletter) by following this link.
Feel free to contact us and we can discuss more about how we can assist you with this challenge.