In the last part of the series, I am going to talk about why you should choose Zalaris.
Who are Zalaris and what do we do?
Zalaris is one of the leading providers of SAP HCM and SAP SuccessFactors implementation and support services. Headquartered in Europe but with global reach, we provide a range of infrastructure, advisory and business continuity services around HR & Payroll.
Having experienced over 20 years of uninterrupted growth, we are a strong and experienced team of over 850 employees operating across 13 countries. We service over 1.5 million employees across our 350+ customers who operate across almost every industry.
Why Zalaris?
Our People – I think that the people at Zalaris are our biggest asset. We have friendly and dedicated consultants who are experienced, certified and truly care about the work we do. We have a good team ethos around teamwork and the feedback we have received from customers 95% of the time includes 'we like the people'.
Excellent reputation – Zalaris prides itself in going above and beyond for our customers ensuring they are provided with support throughout the whole process, we are good value for money and are well respected by analysts.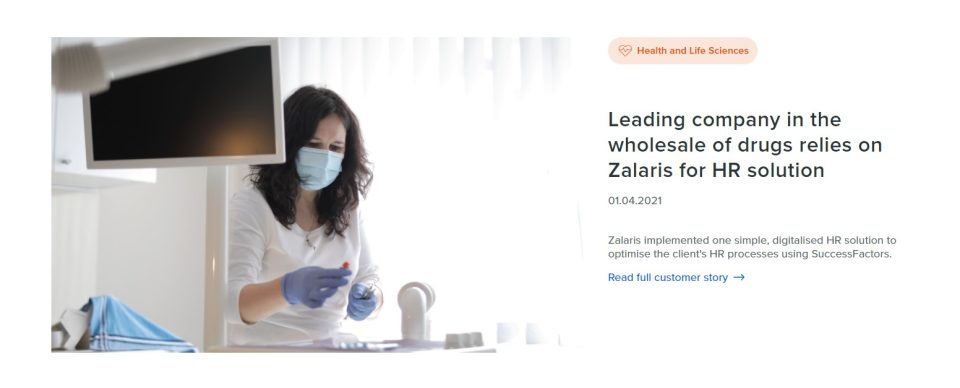 Just a snippet of some of the customer stories we have, if you want to read more click here.
Experienced – Our consultants are highly experienced in dealing with both on-premise and cloud systems and can bridge the gap between the two. Zalaris consultants are also able to integrate with other systems as we recognise that almost every organisation has a hybrid and diverse systems landscape.
SAP Gold Partner – Zalaris are recognised as SAP's longest- standing gold partner for HCM/HXM and are SAP's largest partner for HCM/HXM solutions.
Use Case approach – we have created a standardised process that includes "use case" documentation on the standard SuccessFactors functionalities. This helps business users understand how the functionalities work and the capabilities of the modules in a live setting. This speed up the process and continues to be a great resource for customers to use during each phase of the implementation and even after the solution is live.
Customer support – we provide high level support to our customer throughout the implementation process and further. SAP deploys two huge SuccessFactors releases each year which provide hundreds of updates. Zalaris experts write up articles highlighting the most important updates which will benefit customers. These are released on our website. Once all articles are published, we then put them all together and release an eBook which is completely free for anyone to download and use. The feedback from people is always positive and it allows customers to easily access the updates that come through with extra guidance on how to make the most out of them.
If you have read all parts of my series and still have 'How, Why, What, When' questions then this is the perfect opportunity to contact one of our sales team to speak to our Zalaris experts who have a lot of knowledge to potentially answer any questions you may have.