Following on from Stephen Burr's introduction post, we begin our review for this quarter by taking a look at Employee Central – both the core HR and the Payroll & Time functionality  
Employee Central, Core HR
Signe Mørkenborg Larsen our knowledgeable colleague from Zalaris Denmark, examines what's new in Employee Central for us this quarter.  Whilst it looks to be a relatively light release at the end of the year, Signe pulls out a variety of key updates to administrative features and does so in a light and entertaining manner!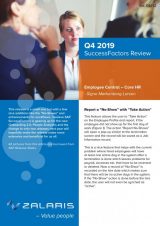 Employee Central Benefits & Time Management
Eliette Marical turns her insightful mind to reviewing the EC Benefits for us this cycle. Alongside a mention of Employee Central localisations, Eliette draws our attention to field replications seen between EC Benefits and Time Management to improve data replication and reduce duplicate data entry. The use of Personal ID external makes for a good read in this informative article!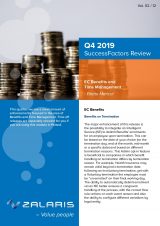 If you have any feedback on the articles, please contact us directly, or reach out to us on social media via LinkedIn or Twitter.
Please do continue to share these articles with your peers, colleagues, and connections. If you have not already done so, subscribe to our mailing list on this page for our news and updates like this.
We follow this week's series with a link to a special consolidated PDF eBook version.  These eBook versions make an excellent searchable reference.