Equal pay is something that every organisation should provide to their employees, and is not something that should be dictated by principle but based on concrete comparison of positions to determine whether the work is of equal value. 
In our previous blog, we discussed in general about what equal pay is all about and how the HR of an organisation can ensure the same is given out to all employees without bias. 
In this blog, let us see how SAP SuccessFactors can support HR to ensure every employee in the organisation is included and every designation is counted during pay day. 
Employee Central in SuccessFactors is the main module used for salary review with the calculations carried out within the Compensation module. 
Calculation of the salary depends on several variables, such as, Pay scale, Pay group, Job code, Job level, Pay Grade, Legal entity and locations. 
To ensure that gender pay gap doesn't factor into the picture, SuccessFactors Analytics uses stories where Gender Pay Gap Analysis has a particular focus on the gender aspect to detect differences in the payment of male compared to female employees.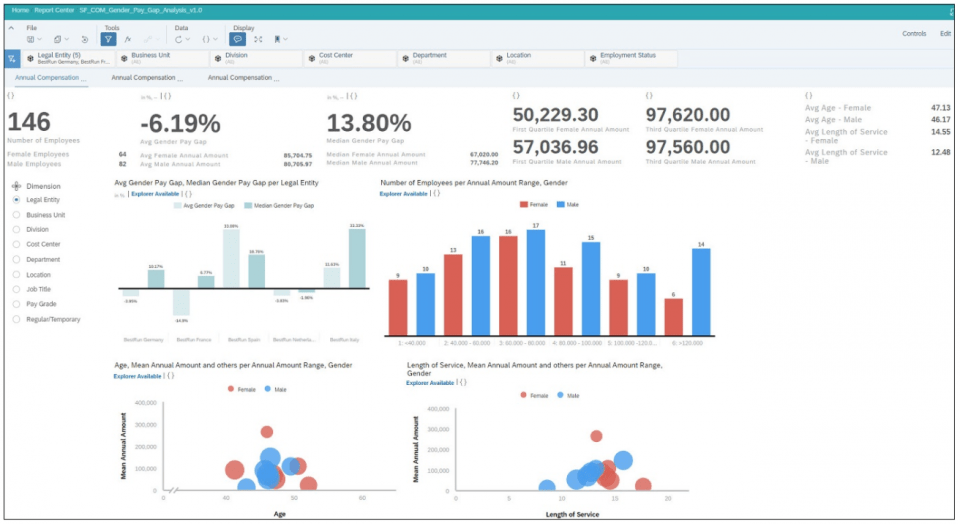 Source: SAP
What is compa-ratio?
Compa-ratios is a functionality under SuccessFactors that help employers determine if they are appropriately compensating their employees. 
It is calculated as the employee's current salary divided by the current market rate as defined by the company's competitive pay policy. Compa-Ratios are position specific. Each position group has a salary range that includes a minimum, a midpoint, and a maximum. Compa-ratios reveal how far an employee's pay is from the market midpoint. 
A typical range of 80 percent to 120 percent is set around a midpoint target for a given pay grade. If an employee has a compa-ratio of 100 percent, they would be considered right "at market." 
Compa Ratio = Employee Compensation/Mid-point of Range 
New or inexperienced employees are typically paid closer to 80 percent of the midpoint, whereas the most outstanding or longest-tenured employees are paid more, up to the 120 percent end of the pay range.  
Keeping this scale in mind, the pay structure of employees can be properly assessed. Compa-ratios can be an integral part of continuously assessing and improving your compensation plan and practices. 
In Zalaris, we use the compa-ratio in combination with other demographics which makes equal pay comparable cross country and within country locations. 
To get an idea of how the compa-ratio is calculated, check out the example provided. 
With SAP SuccessFactors, it becomes easier to calculate the compa-ratios with the compa-ratio functionality provided within the tool. To know more about how you can update your employee's payroll structure, check out the help doc. 
Benefits of using SuccessFactors 
C
ompensation
One of the biggest advantages of using SuccessFactors in your organization is the guarantee that your employees are being paid right and on time.  
With the number of functionalities provided, you can be sure that the organisation can now compete with others in terms of compensation and make sure that the company is market ready. 
Salaries will be paid based on several factors such as market value, experience, competencies, currency, work location, and more, which ensures that every employee gets remunerated fairly and disparities such as gender pay gap does not arise. 
This reduces the risk of an employee leaving and talent attrition due to unequal pay, and at the same time makes sure to increase people engagement and aide strategic workforce planning and strategising for business growth. 
Equal pay is a right to be enjoyed by everyone, and with SAP SuccessFactors, this is a surety.