For 2020, SuccessFactors switched to a biannual release schedule with the H1 release occurring in June.This go-live was a little later than the original May schedule thanks to the challenges COVID-19 placed on the SuccessFactors customer-base. As a result, it seems too soon to be talking about another update. But SAP Cloud for Customer (C4C) remains on its quarterly-release cycle, and Employee Central Service Centre continues to make good use of C4C as its back-end system for service delivery.
Employee Central Service Centre
Stephen Millard picks up the analysis once again and examines what changes the Q3 2020 C4C update will bring to users of the SuccessFactors HR service desk solution. As well as new options for the home page, and new analytics, there are some useful ticket management features, and some updates administrators may find worthy of a closer look.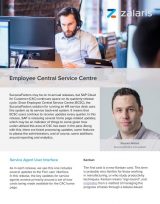 We hope that you find our SuccessFactors release articles both thought-provoking and informative, and we are always interested in hearing from readers about what they find useful or what they feel is missing. If you have any feedback, you can reach out to us on social media via LinkedIn or Twitter.
Please do continue to share these articles with your peers, colleagues, and connections. If you have not already done so, subscribe to our mailing list on this page for our news and updates like this.