On our penultimate day, we have got three more areas lined up to share our consultant's insights on. These are Platform & People Analytics, Mobile, and Succession & Development/Calibration.
Platform & People Analytics

 
Signe Mørkenborg Larsen begins today with her article on the underpinnings of SuccessFactors and its reporting functionality. As well as the many useful new features for administrators, the update also includes a potentially interesting set of updates for people search.
Mobile
Stephen Millard follows Signe with an examination of what has been released to date this year regarding the SuccessFactors Mobile application. The focus of the new functionality is mainly shared between Learning and Employee Central Service Centre, but there are a couple of other updates that have squeezed their way in too.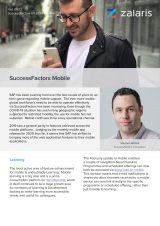 SuccessFactors Succession, Career Development Planning and Calibration
Ilga Proveja gives us today's third and final article. Ilga guides us through a set of updates that not only provides greater control, but also improves the user experience through approaches such as process streamlining and user interface enhancements.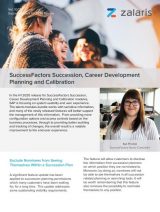 We hope that you once again enjoyed reading our SuccessFactors release articles and that you will be back to read the final instalment of articles in this week's series. 
If you have any feedback on the articles, please contact us directly, or reach out to us on social media via LinkedIn or Twitter.
Please do continue to share these articles with your peers, colleagues, and connections. If you have not already done so, subscribe to our mailing list on this page for our news and updates like this.
We follow this week's series with a link to a special consolidated PDF eBook version.  These eBook versions make an excellent searchable reference.