We have reached the mid-week point in our series, and with that we move on to take a look at Performance and Goals Management, Succession, Career Development Planning and Calibration. We then conclude for today with a view of Employee Central Payroll.
SuccessFactors Performance and Goals Management
Andrejs Misjuns examines several features and revisions within Performance and Goals management. Notably, there is a review of the new user interface for Continuous feedback and of the stronger integration between Goals and Continuous Performance Management.
SuccessFactors Succession, Career Development Planning and Calibration
Ilga Proveja guides us through a set of updates providing ease of administration and also improvements to the user experience through Talent Pool enhancements to permission and nomination approvals as well as those seen on Career worksheets and Calibration.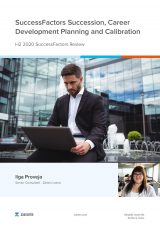 SuccessFactors Employee Central Payroll
Shanto Menachery gives us today's third and final article. Shanto provides a succinct and informative summary of the key enhancements seen in H2 2020 for EC Payroll, notably Posting Simulations pre Live payroll run, and the support of deep links for Pay Statements.
We hope you enjoy these initial articles in our SuccessFactors release, and that you will return each day to explore the rest of our series published throughout the week.
If you have any feedback on the articles, please contact us directly, or reach out to us on social media via LinkedIn or Twitter.
Please do continue to share these articles with your peers, colleagues, and connections. If you have not already done so, subscribe to our mailing list on this page for our news and updates like this.
We follow this week's series with a link to a special consolidated PDF eBook version. These eBook versions make an excellent searchable reference.