On our penultimate day, we have three more areas lined up to share our consultant's insights on. Read on for our take on the enhancements made to Recruiting, Onboarding and Learning.
SuccessFactors Recruiting
Monika Zajc leads off with Recruiting, in which she highlights a series of innovations made to the Career Site Builder, bringing improved configurability options to users.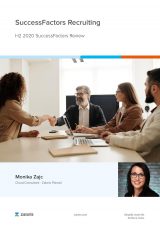 SuccessFactors Onboarding
Bartłomiej Hołowczyc provides his reflection on the latest Onboarding enhancements seen in this H2 2020 release. Onboarding 2.0 receives a small but impactful name change, with a drop of the "2.0" signalling this newest version is now fully in place. Read on to review how Onboarding continues to evolve.
SuccessFactors Learning
Vadims Pavlovs rounds off today's articles with a look at Learning. With the recent transition from Flash to HTML for the Learning administration interface, SAP have gathered customer reviews and looked to further refine their HTML-based design. Take a read to see which enhancements may be of interest to you.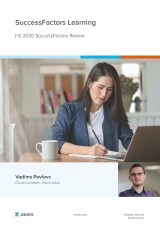 We hope you enjoy these initial articles in our SuccessFactors release, and that you will return each day to explore the rest of our series published throughout the week.
If you have any feedback on the articles, please contact us directly, or reach out to us on social media via LinkedIn or Twitter.
Please do continue to share these articles with your peers, colleagues, and connections. If you have not already done so, subscribe to our mailing list on this page for our news and updates like this.
We follow this week's series with a link to a special consolidated PDF eBook version. These eBook versions make an excellent searchable reference.