Today marks our half-way point through this Q4 blog series and we're following up on yesterday's articles with two more. Today we take a look at the modules utilised when hiring employees into a company; Recruiting and Onboarding.
Recruiting
Sharing her recruiting expertise, Anisha Rajput looks at how enhanced Business rules are due to improve things for recruiters and discusses an interesting Quick Apply feature reducing the number steps for candidates during Job application.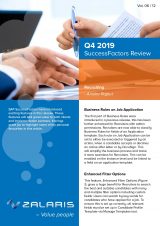 Onboarding
Anisha Rajput once again shares with us her insight today, this time focused on Onboarding. With the eagerly anticipated Onboarding 2.0 release this quarter, there are plenty of enhancements to review, Anisha pulls out her personal highlights for us.
If you have any feedback on the articles, please contact us directly, or reach out to us on social media via LinkedIn or Twitter.
Please do continue to share these articles with your peers, colleagues, and connections. If you have not already done so, subscribe to our mailing list on this page for our news and updates like this.
We follow this week's series with a link to a special consolidated PDF eBook version.  These eBook versions make an excellent searchable reference.