Yesterday our articles examined the updates coming to Recruiting and Onboarding. Today we're bringing a variety of areas together with SuccessFactors Mobile, Succession & Development and Calibration and closing out with a Platform article.
SuccessFactors Mobile
Helen Dunn turns her hand once more to providing a summary of the main enhancements seen to the SuccessFactors Mobile functionality. Helen's article highlights the focus made to Learning Mobile features as well as some key reminders on platform support for Mobile devices.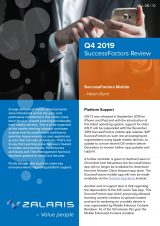 Succession & Development and Calibration
This quarter, our colleague from Zalaris Germany Sena Manci steps up to provide an engaging review of the areas of Succession, Development and Calibration. Sena takes a look at the many enhancements improving customer experience, doing so in a clear an informative style.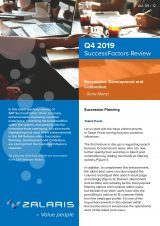 Platform & People Analytics
Stephen Hammond today introduces us to the enhancements seen in Platform and Reporting. With the recent launch of People Analytics, Stephen highlights the continued evolution seen within this area across Q4. Alongside some minor but effective enhancements across Integrations, Extensions and Instance Management processes.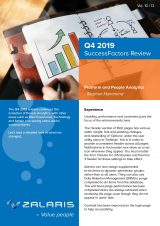 If you have any feedback on the articles, please contact us directly, or reach out to us on social media via LinkedIn or Twitter.
Please do continue to share these articles with your peers, colleagues, and connections. If you have not already done so, subscribe to our mailing list on this page for our news and updates like this.
We follow this week's series with a link to a special consolidated PDF eBook version.  These eBook versions make an excellent searchable reference.