A successful approach calls for engaging with employees in new ways — and literally valuing people. Research has shown that prioritizing employee experience during your digital transformation drives better customer experiences and leads to greater revenues.
However, you also know that this is much harder than it sounds. It's easy to get caught up in standard processes and basic infrastructure and find yourself stuck in the past. To get the most out of digital, you have to break out of the box.
A successful approach to the transformation calls for a multifaceted strategy that spreads across your people, processes and technology.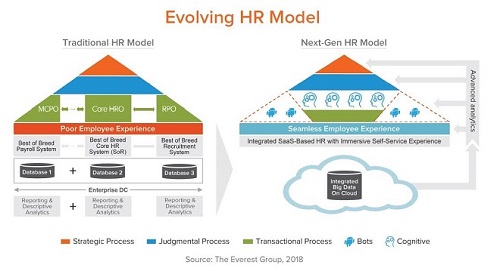 That's where we can help at Zalaris. Our decades of expertise in HR and commitment to maintaining best practices and processes ensures that your employees will enjoy a holistic experience that leads to high value and productivity.
Whether you are part of your HR management team, architecture, infrastructure & innovation, or application management, learning to value people can transform your company's success.
The Gartner Digital Workplace Symposium is a great opportunity to do this. How can you make the most of your time? Here are three reasons why we view the event as a necessity for us that may give you a few ideas:
1. We want our clients to stay on top of the digital workplace, using what we call "smart automation"
At Zalaris, we believe it is crucial to leverage the benefits of ongoing digitization early in the maturation process. Doing so drives innovation across all aspects of our value proposition — how we sell, how we deliver, and why we deliver.
That's why our work focus is on people. We want employees to thrive, and our experience in HR and HCM outsourcing gives us insight — and advantages — when it comes to common engagement struggles.
You don't have the time to keep up with HR trends. That's our job.
We work hard to create an integrated employee experience through our solutions and services that propels greater engagement, retention and productivity. We also focus on remaining digital-savvy at all levels to help you face the new reality that more and more, tasks and processes will be completed by algorithms and supported by embedded intelligence.
That means we'll be thinking often about topics such as:
• Combining best processes and practices to guarantee a culture fit when scaling your digital business, especially in the cloud
• Helping you adjust what you do effectively and efficiently in order to keep up with the best software solutions
• Targeting behaviors and attitudes in the digital workplace to ensure employee and customer satisfaction
• Processing the full impact of artificial intelligence in the workplace and beyond
Zalaris is dedicated to helping you create value, reduce costs, and ensure low-risk operations. We didn't become a European leader in HR transformation, outsourcing and BPO on accident. But we also will not become overconfident — rather, we are extremely humble. Constantly looking for ways to improve our process and our own transformation is the fuel that guarantees your continued success with your employees to close the productivity gap of what is possible.
2. Our clients in the HR space trust us as an advisor and enabler for success
Zalaris is transforming our clients' HR operating models into fully digital, "one-truth" realities. You need to focus on what drives value while learning how to manage today's developments, such as treating the contingent gig workforce the same as your core workforce.
This is still just the beginning. Getting to the cloud is not the destination but the entry point.
Working with a trusted partner and advisor in multi-year, multi-country, end-to-end engagement leads to less risk for you, and more room for success.
Which leads me to our final reason for attending the Gartner Symposium…
3. To meet you!
We need — and want — to be alongside our clients at every stage of the process. Whether you're utilizing applied design thinking to unlock the employee experience, "future-proofing" the workforce with digital dexterity, or preparing an HR roadmap once in the cloud, we'll be right alongside you.
In the modern business world, everything from the selling of the idea to the evolution of your company to running the company to adapting alongside technological innovation is business as usual. We want to run the race with you for each new release of your HR model.
If you're in London for the symposium, you're there for a reason. Your reason is why we do what we do. Always start with that. We'll take it from there.