In November 2018, Zalaris conducted a workshop on "disruption" featuring MIT Sloan Dr. Stephanie L. Woerner at Epicenter Stockholm. The importance of Employee Experience (EX) was among the major takeaways. Whatever HR does going forward, the quality of EX will be inextricably linked to an enterprise's overall success.
Early 2019, for this whitepaper, its related insight and approach, we engaged Copenhagen Business School and CEMS to confirm an ideal approach for Zalaris to drive a compelling employee experience and where to start. Our informed awareness and understanding of the issues and opportunities will help us ensure the best related decision making. We look forward to support HR in every step along the way using findings and approach. This is Zalaris own point of departure to empower HR with employee experience in their continued HR transformation.
It comes down to engaging and retaining high-caliber employees that ultimately stay longer to drive innovation and productivity. As a trusted partner to the business, it will remain crucial for HR to redesign its capability as the more modernized HR journey unfolds.
We are open to share our findings and approach with our clients in webinars and workshops. In the end, to master the employee drivers identified, HR needs to leverage the insight from the one truth data we already process for them.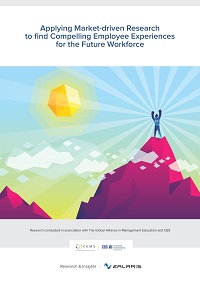 Download the Whitepaper here
We truly thank CB, CMS and the three outstanding students who did this agile study:
Mette Ma Pallesen (Copenhagen Business School & University of St. Gallen)
Jinwen Lu (Hong Kong University of Science and Technology & Copenhagen Business School)
Elias Linder (Wirtschaftsuniversitat Wien & Copenhagen Business School)